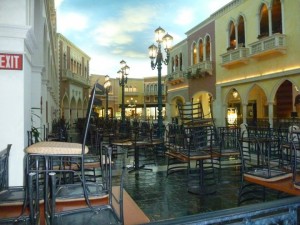 We had listened to the song on the radio one day,
And decided that it would be the theme for our writing project.
Our story, our words
Were developed around the song's lyrics.
We thought of Las Vegas,
A perfect place of paradise,
Because of the brilliant sun in the middle of December,
Or just the bright, flashy, neon lights on the strip,
The fresh southwest wind breeze on my face,
The artificial casino air,
The sweet scent of desert flowers,
Or the perfume from hallways flowing back.
Oasis mixed with mirage.
It was not our kind of paradise, was it?
I wonder if you remember
Cherry blossoms falling on our hair,
Or the magical summer fireflies in the back of Paul's place,
Do you remember the red maple leaves?
The cool autumn air, the pumpkin soup,
The ornaments on the big, tall, blue spruce,
The reflection of snow outside Aunt Big Anh's window.
In my loneliness last night,
Outside the window, the spreading golden oak trees,
Over the towering blue mountains,
Through my dark despair,
I watched the half moon sailing across,
Like a silver upturned cupcake.
I miss all our old road trips,
Across the desert roads, late at night,
Looking for the Big Dipper
When things were still so clear,
Your laughter, still so crisp.
We have been lost in our own wonderland,
In the violent swirl of starry nights,
The project has long been forgotten.
Then on the radio yesterday,
Once again, the song played,
"In space I hang suspended,"
Is there a chance that you still care?