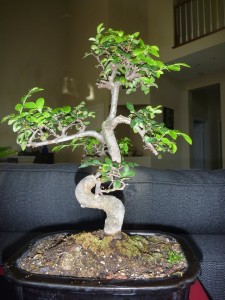 A friend gave you a bonsai tree
as a birthday present one year.
It took him 10 years to grow it.
You loved it, the miniature form
and wily bends.
But you almost destroyed the plant
in 10 days, or at least, that's how it seemed.
You let the leaves grow out
untamed, natural, bigger than
its small form could contain,
so that the manicured, perfect bonsai
lost almost all its original leaves
for the bright, giant new life that now grew.
It was like it was mirroring the Fall,
your favorite season.
You always appreciated
the beauty of decline and death,
to pave the way for a fresh, wild birth.